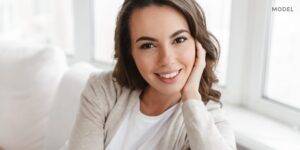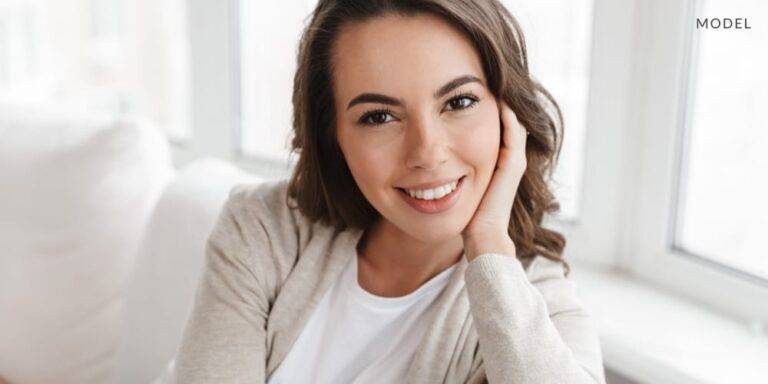 When you have crooked teeth, it may cause you to feel self-conscious about your smile. Not only that, but crooked teeth, when left unaddressed, may ultimately lead to more significant dental problems, including tooth crowding. Thankfully, there are solutions that can address crooked teeth without the need for obtrusive metal braces. At Snow Family Dentistry, we are pleased to fit patients of all ages with Invisalign. We welcome you to learn more about Invisalign treatments.  This clear aligner orthodontic treatment can be for aesthetics, smile makeovers or health/medical reasons.
What is Invisalign?
Invisalign represents a new way to straighten teeth, using transparent plastic aligners instead of metal brackets. Not only is Invisalign more discreet than conventional braces, but it also represents a more comfortable and expedient way to achieve the smile you have dreamed of.  Clear aligners can be part of smile makeover along with teeth whitening, veneers, dental crowns and tooth implants.
Invisalign is a popular option among teens and adults alike, precisely because it is less cumbersome than traditional braces. The transparent design means the aligners are much less noticeable, and the aligners may be removed to eat, drink, or attend a special occasion, such as a wedding, a job interview, or a family photo session.
The "invisible" braces offered by Invisalign can be used to treat crooked teeth, but also a host of other orthodontic problems. These include underbite, overbite, and malocclusion (that is, the misalignment of teeth when the jaw is closed).
Snow Family Dentistry is pleased to provide Invisalign aligners for patients throughout the Mesa, AZ area.
The Benefits of Invisalign and Straightening Your Teeth
Most patients who seek Invisalign do so for a simple reason: They have crooked teeth that cause them to feel less-than-confident about their smile. Invisalign can certainly be a powerful aesthetic remedy, helping straighten your teeth and provide you with a winsome smile.
Patients who pursue teeth straightening procedures like Invisalign may realize a number of other dental health benefits, however. Straight teeth are linked to proper digestive health, as straight teeth make it more likely that food is properly chewed before it is swallowed. Straight teeth lend themselves to better oral hygiene, making it easier to brush and floss. Getting your teeth straightened can reduce the risk of cracked or chipped teeth, and it can minimize strain on the jaw.
Invisalign and other orthodontic treatment can help with snoring and sleep apnea as well.  Snoring and sleep apnea can be caused by orthodontic and misalignment issues, meaning a better bite and straighter teeth can sometimes help.
Whether you are looking to bolster your confidence or enhance your oral health, Invisalign represents one of the most effective paths to straight teeth.
Invisalign vs. Traditional Braces
For many patients, Invisalign represents a much more appealing tooth straightening solution than traditional braces. One reason for this is that Invisalign involves custom-made aligners that ensure the teeth are straightened in a predictable way. Additionally, Invisalign offers a higher level of convenience. They are transparent and also removable, meaning they do not interfere with your normal, everyday life.
Additionally, Invisalign can be more comfortable than conventional metal braces. They are tailor-made to offer a snug fit, and because they do not involve sharp metal, they do not carry the same risk of irritation to the inside of your mouth.
My Teeth are Crooked – What Can Invisalign Fix?
Invisalign can help resolve a number of significant dental issues, including crooked teeth as well as issues with your bite or with the alignment of your teeth to the jaw.
Overbite and Crowding
An overbite means your upper front teeth overlap with the lower front teeth. While most people have at least some overbite, a significant overbite can lead to jaw pain and premature wear of your teeth. Invisalign can help correct deep overbites, and also bring proper alignment to teeth that are crowded.
Underbite
If you close your mouth and find that your lower front teeth extend past your upper front teeth, that means you have an underbite. Usually, this is more an issue of the jaw than the teeth themselves. Regardless of the cause of your underbite, it can lead to difficulty eating. Some underbites can be corrected with Invisalign.
Crossbite
When you have a crossbite, it means the upper teeth sit inside the lower teeth, rather than outside them. This condition may result in your teeth wearing down prematurely, and it may also increase the risk of receding gums or cracked teeth. Crossbites can often be resolved with Invisalign aligners.
Gaps/Spaces
Many patients ask about Invisalign as a way to deal with gaps, or significant spacing, between two of their teeth. Spacing issues can be problematic in the long-haul, as they create pockets where food is trapped, bacteria accumulate, and gum disease becomes more likely. Invisalign can often be the best solution for gaps and spacing issues.
Am I a Candidate for Invisalign?
Invisalign can correct a wide range of dental issues, though there may be some problems that are simply too severe for Invisalign to solve. Such issues may call for traditional braces or even for dental surgery.
For those who have notably crooked teeth or misaligned bites, Invisalign may be a perfect remedy. Specifically, Invisalign can be an effective way to treat gaps and spacing in the teeth, overbites, and underbites; crossbites; and imperfect positioning of the teeth when the mouth is closed.
If you have any of these conditions or simply wish to know more about achieving a healthy smile full of well-aligned teeth, we welcome your inquiries about getting Invisalign in Mesa, AZ. Dr. Snow can speak with you one-on-one to help you determine whether Invisalign is the best fit for your orthodontic needs.
Who is Invisalign Not For?
For severe oral health issues, Invisalign is not always recommended. Additionally, Snow Family Dentistry cautions against Invisalign for certain patients, including those in the following categories.
Smokers
For smokers, the problem with Invisalign is that nicotine and tar quickly discolor the trays, making them less covert and also risking additional staining of the teeth.
Undisciplined
One of the great things about Invisalign is that the aligners may be removed as needed. However, for them to be effective, they must be worn with some consistency and discipline.
Children
Invisalign can be an excellent treatment for older children and adolescents. However, it is not recommended for those who still have their baby teeth in place.
Elderly
While some seniors benefit from Invisalign, others may be better served by other treatments, including the use of dentures. Also, note that Invisalign does require some upkeep.
Are There Any Similar Alternatives to Invisalign?
Ever since Invisalign hit the market, a number of similar clear aligners have been introduced, some of which are available over the counter and some of which are only available from dentists. These alternatives vary in their effectiveness, but at Snow Family Dentistry, we consider Invisalign to be the gold standard and the best option for ensuring overall dental health.
Meet Dr. Snow
Dr. Dallin Snow is one of the top providers of Invisalign in the Mesa, AZ area. He was born and raised right here in town and has been a practicing dentist since 2014. With a degree in nutrition science, Dr. Snow is passionate about helping patients achieve holistic health, not just straightening their teeth but also improving their dental hygiene and their sense of self-confidence. Dr. Snow is married to Lindsey, and together they have four children.
How Much Does Invisalign Cost in the Mesa, Gilbert, Apache Junction, Gold Canyon, AZ Area?
For those who are considering Invisalign, one of the most common questions is how much the treatment costs. The full cost of Invisalign can vary from patient to patient, but you can anticipate that it will cost somewhere in the $3,000 to $7,000 range. This cost covers not only the treatment itself but also the consultation here in our office.
At Snow Family Dentistry, one of the things we are most enthusiastic about is ensuring that expert dental care is accessible to everyone. To that end, we are pleased to provide financing options, allowing you to break down the cost of Invisalign into more manageable payments.
Servicing Orthodontics Patients …
Mesa AZ – Dobson Ranch, The Groves, Reed Park, Superstition Springs, Las Sendas, Alta Mesa, Augusta Ranch, Summer Place Village
Gilbert AZ – San Marcos, Power Ranch, The Islands, Seville, Val Vista Lakes, The Provinces, San Tan Ranch, Spectrum
Apache Junction
Gold Canyon
Is Invisalign Covered by My Insurance?
Many dental insurance policies will cover at least part of the cost of Invisalign, especially if you are seeking treatment for a concerning dental health issue, such as a deep overbite, underbite, or crossbite. This is something our team can discuss with you further at your consultation, along with other financing options.
What to Expect When Getting Invisalign: The Treatment Process
The Invisalign process usually unfolds in a few simple steps. We will begin with a consultation, helping you ensure that Invisalign is the best fit for your dental needs. We will then create a tray that is customized to your teeth and provide instruction on wearing and caring for your aligners.
Getting Started: The Consultation
When you come to Snow Family Dentistry for a consultation, we will use our iTero scanner to create 3-D images of your teeth. Not only does this help us ensure that we are accurately mapping your needs, but it allows us to show you a simulation of what your new smile and straight teeth will look like.
The Molding Process
Using our 3-D imagery, as well as photographs, we will develop an accurate picture of your Invisalign needs. This information is sent to the Invisalign lab, where a custom mold is made just for you. This ensures that your aligners are made to fit you, and only you, correcting your orthodontic issues as expediently as possible.
Fitting the First Tray
Once your aligners are completed, we will call you back to the office to have them fit. In some cases, we may adhere small attachments to your teeth, helping us get the first aligners into place; these attachments are painless and temporary. After we make certain the aligners fit as they are supposed to, we will provide full instruction on using Invisalign correctly.
How Long Will Treatment Take and How Many Appointments Will I Need Before My Teeth are Straight?
Every Invisalign experience is unique, and for some patients, the treatment may take longer than it does for others. It comes down to the severity of your orthodontic issues; the more crooked your teeth or the more pronounced your overbite or underbite, the longer Invisalign will take. We recommend check-ups every six to eight weeks, which allows us to monitor your progress.
After Invisalign is Placed
Invisalign works best when you wear your aligners consistently and when you take good care of the aligners any time they are not in use. As such, one of the most important parts of any Invisalign treatment is when we explain aftercare instructions to the patient, showing them how to get the most out of their treatment.
How Many Hours Per Day Do I Need to Wear My Invisalign Aligners?
Invisalign aligners may be removed when you eat or for occasions such as a job interview or a family photo. With that said, the more you wear them, the more quickly you will see results. We recommend wearing them as much as possible, both during the day and at night, shooting for at least 20 to 22 hours daily.
How Frequently Should I Change My Aligners?
You will need to switch your Invisalign aligners on a regular basis. Each new tray will gradually shift your teeth and correct your orthodontic problems. If you wear your aligners consistently, for at least 20 hours daily, then you will likely be on track for a new aligner every one to two weeks.
Eating Restrictions – Are There Any?
One of the great benefits of Invisalign is that it does not interfere with your everyday life. This includes eating and drinking. Not only can you remove the aligners as you enjoy a meal, but there are no prohibited foods or beverages. Invisalign patients do not need to make any dietary adjustments.
Can I Chew Gum or Smoke While Wearing My Aligners?
While we advise patients not to overdo it with sugar-filled gum, the occasional piece of chewing gum is alright, just so long as you remove your aligners. Smoking is discouraged for all Invisalign users. The aligners can quickly become stained with tar and nicotine, even if you remove them while you smoke.
Keeping My Invisalign Aligners Clean
The best way to keep aligners clean is to soak them each day in either an Invisalign cleaner or in a dentures cleaning solution. We discourage soaking them in hot water or in mouthwash, both of which can damage the aligners. After soaking, use a toothbrush to remove any visible plaque or food particles that remain on the trays.
Other Dos and Don'ts
If you take out your aligners to enjoy a meal or a beverage, it is best to brush and floss before putting those aligners back into place. We recommend against leaving retainers out, where they can become damaged. And, before leaving for an extended business trip or vacation, talk with Dr. Snow about packing an extra tray.
Frequently Asked Questions and Other Things to Expect with Invisalign
At Snow Family Dentistry, we want all of our patients to be fully informed about the treatments they receive. We welcome any additional questions you may have about Invisalign.
Can I Get Invisalign Treatment for Just My Top or Bottom Teeth? Or Do I Need it for Both?

Most patients require both of their arches to be corrected, which means getting Invisalign for both the top and the bottom teeth. However, there are some instances where only one aligner is needed to cover just one arch. This is certainly possible and is something we can discuss during your consultation.

Does Getting Invisalign Treatment Hurt?

Some patients experience some very minor discomfort when they first get a new Invisalign tray. This discomfort tends to subside within a day or two, but for those who need extra relief, over-the-counter pain medications, such as Tylenol or Ibuprofen, are often sufficient. Other patients report little to no discomfort at all.

Will the Results from My Invisalign Treatment Last?

One of the most common concerns among patients seeking Invisalign treatment is how long the results will last. The goal of Invisalign is to provide permanent results, meaning straight teeth and a corrected bite that will last the rest of your life. In some instances, dental or periodontal conditions may cause teeth to become crooked again, but these cases are the exception to the rule.
Is Invisalign Really the Right Choice for Me?
Crooked teeth can sometimes make you reluctant to flash a smile. Not only that, but misaligned teeth may point to deeper dental problems, or place you in a higher risk category for jaw pain and for premature tooth deterioration.
If you have crooked teeth or a bite that is out of alignment, Invisalign can offer a convenient, relatively fast-acting solution. We would love to tell you more about the benefits of getting Invisalign at Snow Family Dentistry.
Schedule a Consultation with Dr. Snow at Snow Family Dentistry
If you are ready to get the straight teeth you have always dreamed of, we invite you to contact Snow Family Dentistry today.
Come meet with Dr. Snow, discuss your needs and goals, and learn more about whether Invisalign is right for you. We hope to hear from you soon.